Important Information (November 09th 2020)

Sale and services of baierfoto have ended.

No items are available any more. The baierfoto web pages remain online for information purposes only.



Adapter for Hasselblad and Kiev 88 Prismfinders to fit Rolleiflex TLR Models with Interchangeable Finders Option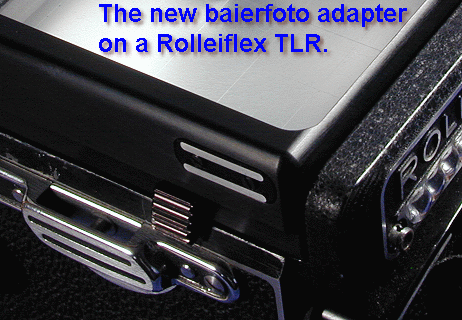 | | |
| --- | --- |
| | |
| Adapter fits camera interchangeable - like the original waist level finder | |
| Finders snap in on the adapter by spring loaded steel ball | |
| | |
| | |
Focusing screen visible at 100 per cent (But please note: With the new cameras (2,8 GX, 2.8 FX, 4,0 FW) the LEDs are not completely visible with the non metering Kiev prism, which will show the camera´s meter display just partially depending on your eye's position)

Unreverted viewfinder image

Eye-sight correction lenses available in any individual strength, even cylindrical, for Euro 15,- (with version C you need an additional distance ring for Euro 4.50 for correction lens mount)*) Lenses and distance rings no more available
*) Attached with the baierfoto adapter the finder´s base plate will be at a distance of 8-9 mm from the Rolleiflex focusing screen. This is because the finder would not show the entire Rolleiflex focusing screen if located nearer. Most customers have not had eyesight problems caused by this larger distance. But please check whether your finder gives a sharp image at a distance of 9mm (check whether grid lines or Fresnel structure or grain can be seen sharp). If your finder should not give a sharp image of the screen, a diopter lens of -1.25 dpt would be required (available for 15 Euros). With mounted diopter you will nevertheless have a sharp view on the nearer screen in your Hasselblad or Kiev camera (if your eye´s adaption ability isn´t severely reduced).
Former Prices for residents of the European Community incl. VAT

Former Prices for residents outside the European Community without VAT

Adapter

110 Euros

shipping




Adapter

92.50 Euros

shipping

10 Euros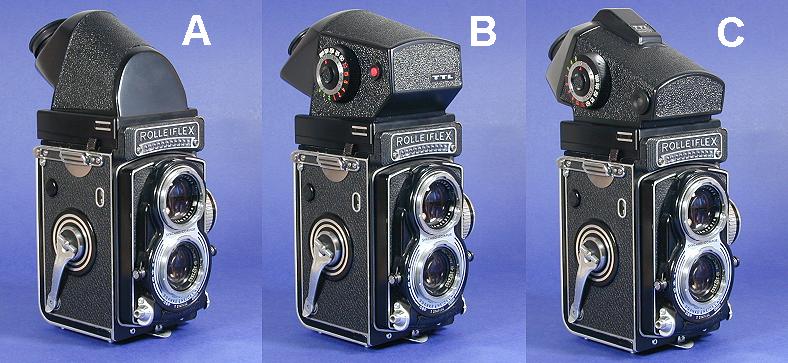 Adapters and Prism finders no more available